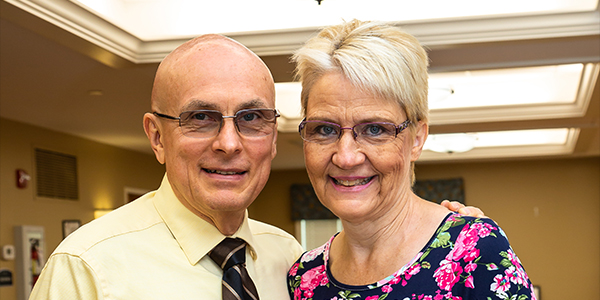 My wife Rose and I are members of the 1892 Founders Society. Do you know why? More than five years ago, my family realized we needed to have a difficult discussion with my aunt and uncle. We were concerned about their safety and ability to remain independent in the two-story home they had lived in for more than 60 years.
The laundry room was in the basement. The bedrooms were on the second floor. Both were getting older and were struggling to navigate the stairs. The home wasn't safe for them - physically or environmentally. Plus, both had medical conditions that they were struggling to manage on their own. It was challenging for our family to provide them the help they needed all the time. So, practically, the move to assisted living made perfect sense. Their medical needs would be met, they would be safe, there would be plenty to do, and they would have many opportunities for social activities.
But, practicality doesn't mean anything when you are telling someone you think they should sell their home and move into an assisted living facility. How do you convince them to give up their independence, their home, their life as they have known for so long? My aunt and uncle were tentative about the decision at first, but once they settled in, they thrived. They were able to live independently and to enjoy each other's company, while having their needs met.
My aunt and uncle were like parents to me. We knew that Altenheim and Shurmer Place would provide them with the care they needed, and the homelike atmosphere they wanted. Without a doubt, the decision our family made gave my aunt and uncle a better quality of life.
We want Altenheim to be the best choice for other seniors who need help. So we invested in its future through an Altenheim planned gift.